by Coco Quinn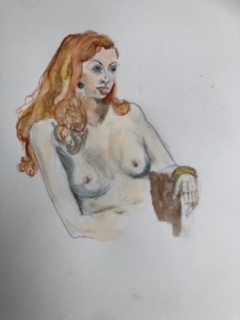 This morning I woke up to a snowy view of my backyard, the Virginia weather still doing its best to make me feel like I'm writing from Park City. There's a lake I look out on, and when I felt a sensation something was off, I realized it must have iced over. Looking further out, I could see ripples in the distance where the surface wasn't frozen of motion.
I made a cup of coffee, and settled in under some blankets on my couch, ready to watch my first Sundance premier. I'm glad it was sunny outside because it was about to get dark.
We Need To Talk About Cosby, and I don't want to, because it's uncomfortable. But we really do need to talk about these things. I think women should watch this movie with other women. Like we did with the Sex and the City movie. With cosmos or whichever cocktail pairs best with catharsis, and talk through what comes up.
Director W. Kamau Bell implores us that we can't begin to heal without first having some hard conversations. He explores who Cosby was, from the groundbreaking to the terrifying, and what his achievements and actions say about America over the past 50 years. He challenges us to reexamine the culture that lifted Cosby to the level of "America's Dad."
This four-hour-long documentary (in four parts) is airing on Showtime and I recommend it, but it brought up a lot for me. One of the interviewees in the film talks about how sometimes something is put in your drink, but sometimes it's the drink itself that can cause a blackout. And you might never know which it was, but it doesn't matter. The intent to incapacitate you is the same regardless of the substance.
I have a night I can't remember all of what happened, and I've always wondered if I was just over-served or drugged by the waiter. He sent over an extra martini or two, on the house. He got my number by taking a picture of me with my friends and texting it to me. He would call and text me for months. I never answered nor responded, and it always scared me. It didn't stop until I reported it. The brief clips saved as memories are clear, and the blank spaces, they're still black.
I started just now to write I was okay, but is that really true? I ended up in the hospital. The feeling you get knowing you have gaps in your memory, but were walking and talking (about what and to whom exactly, you don't know), can be panic inducing. And embarrassing. It's been years and those feelings still flare up.
I don't know many women who haven't had a similar experience. I wish that were not the case. It's hard to talk about, so usually we don't. I know that I'm the only person that some friends have told about the moments someone intentionally erased from their memories before they'd even been made. It's hard to hear it talked about in this film without feeling like that could have been me, or someone I love. That it could have been anyone. That it happened to way too many women. I'm so proud of them for speaking out. It isn't easy.
When to speak out, or if you should, is hard to say. Especially if that person has cache. Makes you feel special. They impress your friends and family, like Cosby did with these women. When is the behavior bad enough to speak out? What about a famous man you thought was your friend for years and years and then you hear about something really creepy? What are you supposed to do? The easiest answer is fucking mind your own business. But look how that went with Cosby. Scores of people around him looked the other way.
What if you know of a famous man whom you've always considered to be one of the good guys, and then you find out he casually asked for revealing photos from a woman you love. And it freaks her out. And then when he next makes contact, she tells him, "What you said really upset me." And then he goes on and on in a text about how he jokes about stuff like that with his comedian friends and he's an idiot and was just trying to make a joke. But he's a professional comedian. And the request wasn't a joke. And it wasn't funny. And this excuse rings hollow and weird, and your friend is scrolling back through years of texts wondering if she'd ever said anything to give him the wrong idea, and she hasn't. And so, she scrolls through her Instagram and Facebook to see if any of her selfies were too provocative. And she's trying to find where she was responsible for the strange behavior of this friend, and supposed ally.
And she's feeling bad about herself and fixating on it for days. And the years of friendship feel like grooming because now this guy is acting like a predator. And did she just see behind the curtain? Is he doing this to other women? Girls? Are they sending him pics? What happens next to them if they do? What is his end game?
We Need To Talk About What To Do. Because I really don't know. My first thought was she should call his wife, that maybe she could talk to her husband about how when someone does something like that to call out your body, especially if you're a busty girl, that it makes you feel reduced to nothing but your physical appearance. That it makes you question your worth. Your perceived worth. That it shakes your sense of knowing who to trust, if someone you trusted and respected could make you feel so bad.
And now she starts to cry because she feels like she's ruined him for you. Ruined her best friend's favorite movie for her because he's in it. Ruined the kind recommendation letter he once wrote for you, which you have framed on your desk to remind you he believes in you. And you look her in the eyes, and it's like looking out at the lake this morning. You're not seeing any ripples. Something is off, someone has frozen a part of her that usually sparkles.
So, you tear up the letter and tell her she didn't ruin him for you, he did. And now your stomach goes queasy when he pops up on TV. Why is he on so much TV? And it's not the worst behavior, but it's not good, and the fact that it is subtle is such a fucking scary part of it, 'cause it's easy to blow off for him, but that's the point if he doesn't get what he wants, right? And the uneasiness and resentment aren't going away. And you want to tell him how damaging it is, because he can't possibly know, or he wouldn't have done it. But then . . . he did it. And not only does he know, but that's also quite possibly what he likes about it. And you introduced them, so you feel like it's your fault. You thought he was a nice guy and you got it wrong.
And there goes one more woman, taking on the burden of a bad man's actions.