by Katharine Elizabeth Monahan Huntley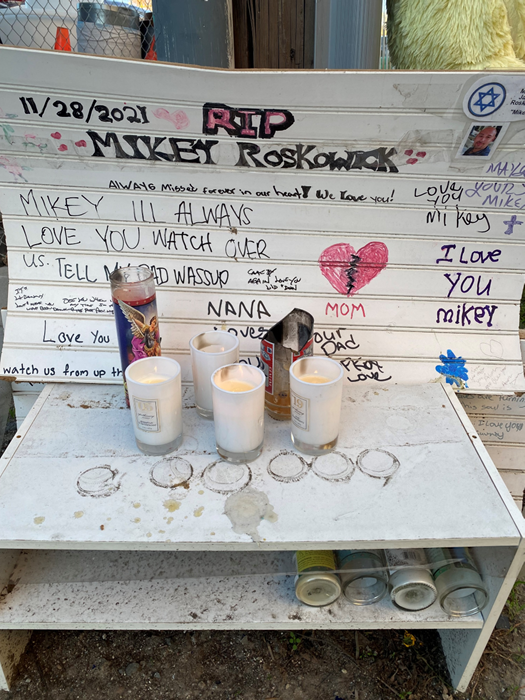 "I could run to the liquor store. Or, we could go somewhere else," said Mac. He didn't drink, and I didn't blink. We could only think India Tandoori was a bust. Someone under 21 had been overserved. ABC observed. I opted for the masala tea, which did not arrive until after the meal. The ritual was enough for me. Salaam Bombay, Burbank!
Back to NoHo, we pulled up from Vineland Place, and parked on the right of Huston. Jordan was passing by in the middle of the street. Mac hailed, leaning into the driver's side window. Wallie's newest hair client, wearing a Grinchmas sweatshirt, was tentatively crossing over from First Hydro's side of the street. Wallie and Raquel to greet.
"The Social," is an apartment complex located within North Hollywood's Arts' District "Pizza Slice"—the triangle of Vineland, Lankershim, and Camarillo. Fast cars drag race late nites over the hill to Hollywood—flashing by the red neon signs of Johnny's Auto Body and the Colony Inn, rife with sin. It bills itself to tourists as the "Hotel Near Universal Studios."
Levi Ponce's mural, Baby Buddha, Bob Marley, and Jimi, is painted on the backside of Big Boss Records studio. They keep a watchful eye over Huston Street, the strip that perpendiculates Mr. Patel's no tell motel from Ponce's "Soliloquy," protector of the wholesome, homeless, hoes, anything goes.
I remembered Jordan's jacket, left over from our last party. I went up to the apartment, Mac did the fetch. Still sorting through mail, I heard the kvetch.
Mac heard the pops.
Then called the cops.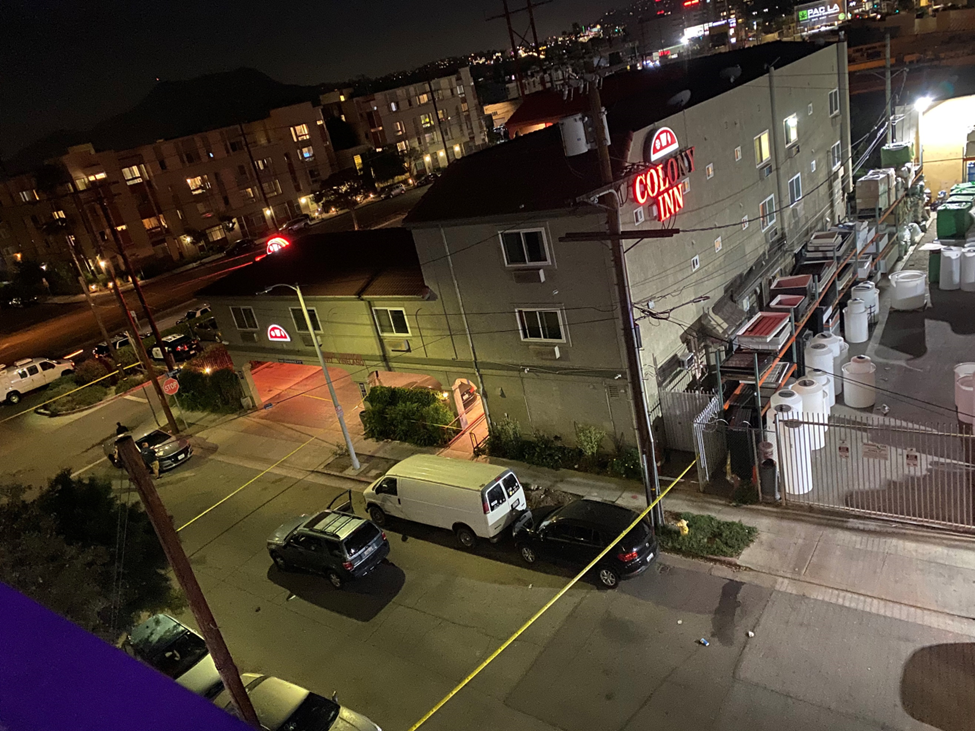 From my fourth floor sliding glass door, I watched Mac lean into the SUV's passenger's side window offering comfort to the victim's girlfriend. Then I went in with the photo ops.
Mac's car was blocked in as part of the crime scene. After waiting over an hour to be questioned, he left his contact info and bailed a few blocks over to his "Living in NoHo" apartment on Magnolia Blvd.

The detectives strolled floor to floor, door to door. I let them know I was Mac's mama. The handsome detective, who looked like he stepped out of a TV cop drama said, "Oh, your son, the actor?" Everyone is so pretty in L.A.
I called MacGuinness who, in reality, is not an actor, but a Kiwami by Katsuya Sushi Master for actors like Only Murders in the Building's Selena Gomez and Captain America's Chris Evans.
He was at once annoyed and anxious. "You take so many pictures and videos, but you don't know who's watching you."
True. A diehard true crime fan, on pause was Dig Deeper. On the podcast, "My Favorite Murder." Bookmarked, Chapter 5, "A Female Killer" from Ann Wolbert Burgess' A Killer by Design. It's my hometown murder story.
I texted my principal and priest and tried to rest.

Opening the bedroom blinds the next morning, I spotted an oversized plush duck, what the fuck, perched next to the fire hydrant pert on high alert. It remained there as a shrine for months, during sun and rain, where it became sad soaked sodden downtrodden.
Research showed "Mikey" as a 49er fan, FB friends with many, including Thumps, Parody, and Jessa, Sales Manager of North Hollywood Toyota. I entertained the idea of walking down Lankershim, to perhaps share the experience. Jessa, however, has also inexplicably passed. I lit a virtual candle for Mr. Michael James Roskowick on the Mount Sinai website, and contemplated the "wick" in his name. I combed through The Homicide Report and alarmed myself with violence afoot . . . I reflected upon the North Hollywood Shootout, aka, the Battle of North Hollywood.
I watched incessantly obsessively Wallie worried me taking it too seriously. She's Puerto Rican and raised in Allentown, P.A. Just another day of foul play.
November 29, 2022. A year to the day, I was in Tuesday school mass to pray. Listening to Father Alexander's homily, I faded to black. Six firefighters came to carry me out of the church. Ashley was only too happy with the 911 to provide the 411 and flirt. They looked like they had just stepped out of Backdraft.
My eerily prescient 4th grade student, Malala, told me I had turned to her and whispered, "Save Me" before I went from kneel to keel.
Malala's mama peacefully passed November 2023.
Fast forward to February 23. Dinner at Black Market Liquor Bar with MacGuinness' roommate Andrew "Gaga" Rafeh, and our astrologist friend, Kristina. Andrew recounts being awoken at 1:40ish A.M. overhearing two people in a heat on the street; behavior normalized in NoHo. Atmospheric river rain lulls to doze, then Andrew sharply arose to, "Get the fuck off me. Step back." Flipped out of bed worried about Aniesse, tripped over the ottoman. Looking out onto Blakeslee and Magnolia is a man hunched over, stabbed six-eight times. Sirens then Sleep.
Awoken by Mac at their usual workout time: 5:20 A.M.
Andrew: I'm not going to the gym, and I'm going to buy a tiny gun.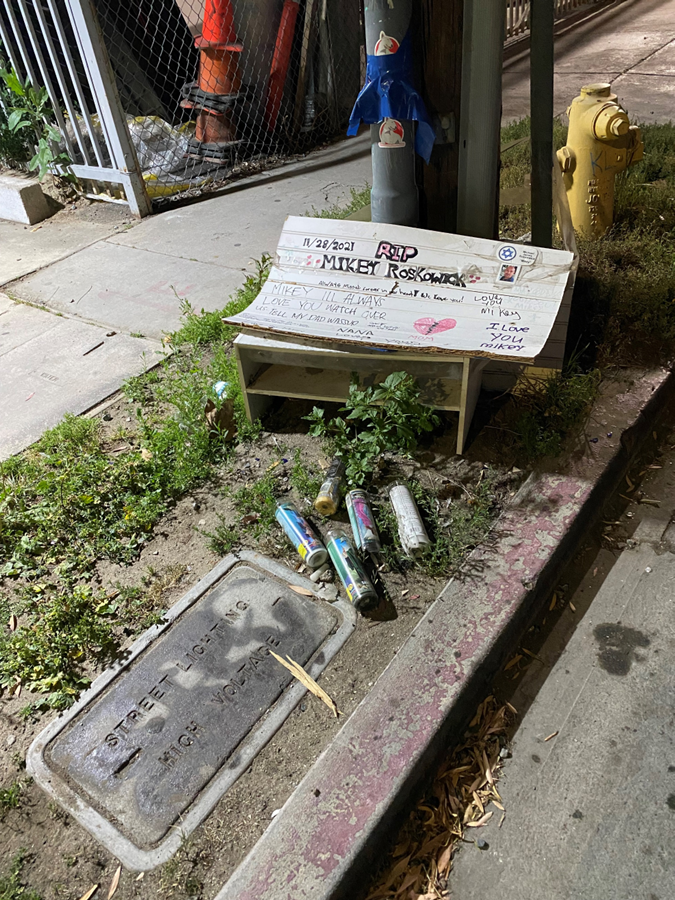 "Lost to gun violence on November 29, 2021. 67 candles have been lit.
It is always difficult saying goodbye to someone we love and cherish. Family and friends must say goodbye to their beloved Michael James Roskowick (Los Angeles, California), who passed away at the age of 30, on November 29, 2021.
Funeral arrangements under the care of Mount Sinai Parks and Mortuaries."
NORTH HOLLYWOOD, CA — A 30-year-old man is dead today after being shot in North Hollywood Monday night, and police are searching for his killer.
Authorities have not yet identified a motive for the killing, which occurred just after 7 p.m. in the 11000 block of Huston Street. According to Los Angeles Police Department detectives, Michael Roskowick of Van Nuys was sitting in the driver's seat of a Ford SUV parked in the middle of the street when the gunman approached.
The shooter opened fire before fleeing north on Vineland Avenue.
When police arrived, they found Roskowick suffering from gunshot wounds and being treated by paramedics, according to the Los Angeles Police Department. He was taken to a hospital, where he died from his injuries.
The suspect was described as a bald man roughly 40 years old. He was about 5-feet- 11-inches tall and weighed about 230 pounds.
Anyone with information on the shooting was asked to contact LAPD Valley Bureau Homicide at 818-374-9550. Calls made during non-business hours or on weekends can be directed to 877-527-3247. Anonymous tips can be called in to Crime Stoppers at 800-222-8477 or submitted online at lacrimestoppers.org.
Postscript: The Social's Mangeress, Christine, updated the author the killer has since caught . . .